Pictures of
Wynton Marsalis

American trumpeter, composer, bandleader, music educator, and artistic director
(1961- )



Wynton Marsaliis' most famous works included: "Jig's Jig", "Root Groove", "Black Codes (From the Underground)", "Double Rondo on the River (Pedro's Getaway)", "Down Home with Homey", "Sunflowers", and "Soon All Will Know".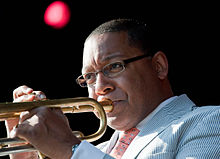 Wynton Marsalis at the Oskar Schindler Performing Arts Center (OSPAC) Seventh Annual Jazz Festival in West Orange, New Jersey, in 2009.





National Medal of Arts recipient Wynton Marsalis meeting President George W. Bush in 2005.








A bronze statue dedicated to Wynton Marsalis located at the Parque de la Florida, Vitoria-Gasteiz, Spain.





Author: David Paul Wagner
(David Paul Wagner on Google+)


Note: This picture gallery page includes drawings, paintings, photos and images of performances of Wynton Marsalis.