Pictures of
Madame Butterfly
(Italian title: Madama Butterfly)
An Opera by Giacomo Puccini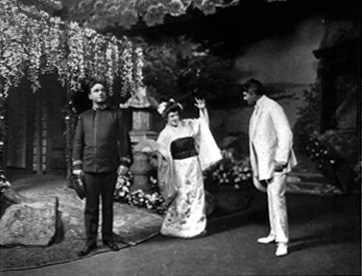 Madame Butterfly, Act I, with Francis Maclennan, Renée Vivienne, and Thomas Richards.








Poster designed in 1904 by Adolfo Hohenstein (1854–1928) for Puccini's Madama Butterfly (Madame Butterfly).

Hohenstein also designed a celebrated dramatic poster for Puccini's opera, La Tosca, a poster for Puccini's La Bohème, and stage sets, props and costumes for La Tosca and for Puccini's opera, La Bohème.





Author: David Paul Wagner
(David Paul Wagner on Google+)


Note: This picture gallery page includes drawings, paintings, photos and images of performances of the opera, Madam Butterfly, as well as of the opera singers, stage sets, manuscripts, and more.