Pictures of
Giuseppe Verdi
Italian operatic composer
(1813-1901)


Share this page:

Verdi wrote many operas including Nabucco, Rigoletto, Il Trovatore (The Troubador), La Traviata, Aïda, Otello, and Falstaff. Verdi music also includes church choral music such as his Requiem Mass, Ave Maria, Te Deum, and Stabat Mater.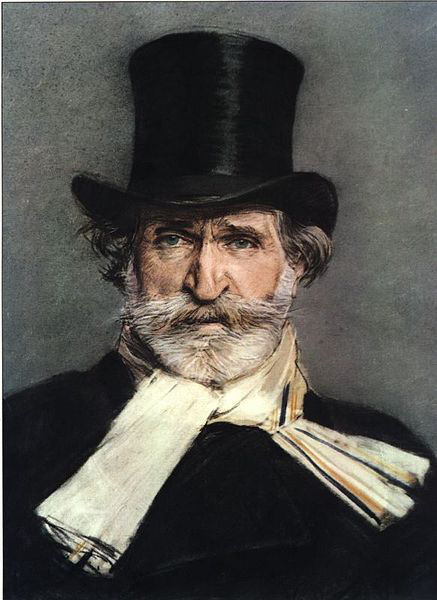 Portrait of Giuseppe Verdi by Giovanni Boldini, 1886.

This painting may be seen at the National Gallery of Modern Art, Rome, Italy.





A caricature of Giuseppe Verdi. The caption underneath reads "Italian Music". This caricature was published in Vanity Fair magazine on 15 February 1879.

Artist: Théobald Chartran (1849-1907). The artist's penname, T, appears on this caricature.








Giuseppe Verdi directing the rehearsals of his opera, Falstaff. These sketches appeared in an 1894 issue of the French magazine, L'Univers illustré [The Universe Illustrated].

A copy of this issue is held by the Bibliothèque nationale de France [National Library of France], Paris.





Giuseppe Verdi conducting the Paris Opera premiere of his opera, Aida, at the Palais Garnier on 22 March 1880. This production of Aida was sung in French.

This illustration was published on 3 November 1881 in the French magazine, La Musique populaire [Popular Music]. The artist was Adrien Marie (1848-1891). The version that appears above has been cropped.
Cropped image.








A scene from Verdi's opera, Don Carlos, as depicted on this postage stamp issued by Hungary in 1967.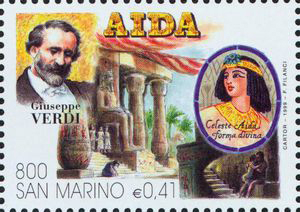 A scene from Verdi's opera, Aida, as shown in his postage stamp issued by San Marino in 1999.

The Italian words on the stamp, "Celeste Aida, forma divina" (Heavenly Aida, divine form), refer to one of the opera's famous arias.


Share this page:



Author: David Paul Wagner
(David Paul Wagner on Google+)


Note: This picture gallery page includes drawings, paintings, photos and images of Giuseppe Verdi, his music, activities, friends and family, and the various places where the composer lived and wrote.