Pictures of
Tommy Dorsey

American jazz trombonist, trumpeter, composer, and bandleader of the Big Band era
(1905-56)



Tommy Dorsey was famous for the smooth tone in which he played the trombone and is popularly known as "The Sentimental Gentleman of Swing". He played with his brother, the bandleader, Jimmy Dorsey, until the mid-1930s, when he broke away to form his own band.

As a member of the Dorsey band, he had many hits in the 1930s/40s, including "On Treasure Island", "The Music Goes 'Round and Around", "You", "Marie", "Satan Takes a Holiday", "The Big Apple", "Once in a While", "The Dipsy Doodle", "Our Love", "All the Things You Are", "Indian Summer", and "Dolores". Later hits included "Lullaby of Broadway", "Chasing Shadows", "I'll Never Smile Again", and "In the Blue of Evening".

His compositions included "You Can't Cheat A Cheater", "Three Moods", "The Morning After", "Chris and His Gang", "To You", "This Is No Dream", "You Taught Me To Love Again", "In The Middle Of A Dream", "Night In Sudan", "Nip and Tuck", and "Trombonology".





The trombonist and bandleader, Tommy Dorsey, in the film The Fabulous Dorseys (1947). In this screen capture Dorsey is playing his trombone.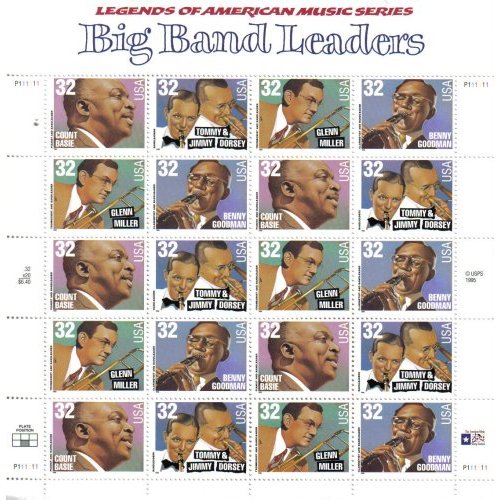 "On September 11, 1996 in New York, NY the USPS issued as part of the American Music series. The success of the Benny Goodman Orchestra in 1935 led to the formation of other big bands led by such talented individuals as Count Basie, Tommy and Jimmy Dorsey, and Glenn Miller. In 1996, these five individuals and their musical achievements were honored as part of the Legends of American Music series." -- United States Postal Service

In this picture, Tommy and Jimmy Dorsey appear in the second stamp from the left in the top row.





Author: David Paul Wagner
(David Paul Wagner on Google+)


Note: This picture gallery page includes drawings, paintings, photos and images of performances of Tommy Dorsey.