Pictures of
Robert Schumann
German composer
(1810-56)


Share this page:

Robert Schumann wrote many Lieder (solo songs) such as Myrthen (Myrtles), the two Liederkreise (Song Cycles), Dichterliebe (Poet's Love) and Frauenliebe und Leben (Woman's Love and Life). Other Schumann music includes symphonies (such as the No 4 in D Minor) , chamber works (including the Piano Quintet in E Flat Major), and the overture to Lord Byron's drama Manfred.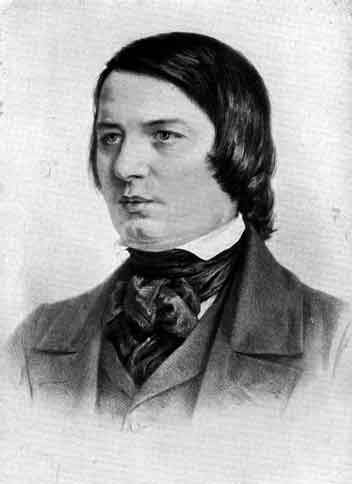 Robert Schumann.
(Drawing by Adolph Menzel.)





Robert Schumann, in Vienna, in 1839.
(Lithograph by Josef Kriehuber.)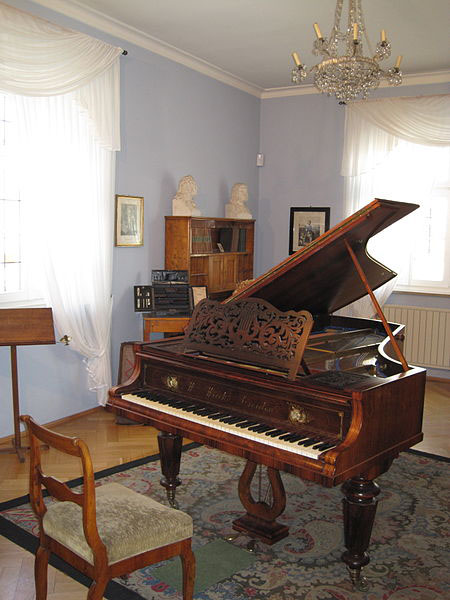 Music room, Robert Schumann's house, Zwickau, Germany.
Photographer: Vwpolonia75 (Jens K. Müller).








Robert Schumann and his wife, Clara, a celebrated pianist.

Daguerrotype, 1850.





Robert Schumann in an 1850 daguerreotype.
Photographer: Johann Anton Völlner, Hamburg.





Grave of Robert and Clara Schumann in the Alter Friedhof (Old Cemetery), Bonn, Germany.

The text on the monument reads: "Rob. Schumann. Dem grossen Tondichter von seinem Freunden und Verehrern. Errichtet am 2. Mai 1880." (Robert Schumann. To the great composer from his friends and relatives. Erected on 2nd May 1880.)

The text on the plaque on the ground reads: "Robert Schumann. 8. Juni 1810. 29. Juli 1856. Clara Schumann (geb. Wieck). 13. Sep. 1819. 20. Mai 1896." (Robert Schumann. [Born] 8th June 1810. [Passed away] 29th July 1856. Clara Schumann (née Wieck). [Born] 13th September 1819. [Passed away] 20th May 1896.)

Photo: Sir James.





Share this page:



Author: David Paul Wagner
(David Paul Wagner on Google+)


Note: This picture gallery page includes drawings, paintings, photos and images of Robert Schumann, his music, activities, friends and family, and the various places where the composer lived and wrote.