Pictures of
Oscar Peterson

Canadian jazz pianist and composer
(1925-2007)



Oscar Peterson's popular pieces included "The Lonesome One", "Ballad to the East", "Laurentide Waltz", "Nigerian Marketplace", and "Mozambique".




Oscar Peterson in 1977.
Photo: Tom Marcello.





The Oscar Peterson Trio (Oscar Peterson, Niels-Henning Ørsted Pedersen, Louis Hayes) during a concert in Aachen (Germany) on October 17th 1971.








Joe Pass and Oscar Peterson at Eastman Theatre Rochester in N.Y.
Photo: Tom Marcello. No date given.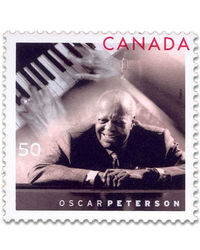 Oscar Peterson on a 2005 Canadian commemorative postage stamp. Peterson is the only Canadian who had a commemorative stamp issued during their lifetime.





Author: David Paul Wagner
(David Paul Wagner on Google+)


Note: This picture gallery page includes drawings, paintings, photos and images of performances of Oscar Peterson.