Pictures of
Modest Petrovich Mussorgsky
Russian composer
(1839-81)



Share this page:

Mussorgsky was a member (along with Balakirev, Borodin, Cui and Rimsky-Korsakov) of the group of Russian nationalist composers known as The Mighty Handful (or The Five). His masterpiece was Boris Godunov. Other Mussorgsky music includes: opera; songs; the orchestral poem, Night on Bare Mountain; and piano pieces, such as Pictures at an Exhibition.





Modest Petrovich Mussorgsky in 1881. This famous portrait by Ilya Repin shows the musician just a few days before his death. Dressed in a hospital robe, he shows signs of physical and mental decline, due in part to years of heavy drinking. But the other side of this great composer should also be remembered: a man of great talent, lucidity and sympathy for the underprivileged serfs.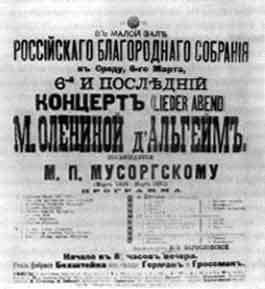 Poster for an all Mussorgsky concert in 1902 presented by Marie Olenina-d'Alheim, the Russian-French singer





Scenes from Mussorgsky's opera, Boris Godunov, as depicted on this 1999 postage stamp from San Marino.





Share this page:



Author: David Paul Wagner
(David Paul Wagner on Google+)


Note: This picture gallery page includes drawings, paintings, photos and images of Modest Petrovich Mussorgsky, his music, activities, friends and family, and the various places where the composer lived and wrote.