Pictures of
Louis Armstrong

American jazz trumpeter and singer
(1901-71)



Louis Armstrong, also known as "Satchmo", was a brilliant American jazz trumpet and corner player and singer. Born in New Orleans, he first played as a member of the New Orleans Waifs Band and then in Mississippi riverboat bands. He joined King Oliver's jazz group in Chicago in 1922, played as a solo artist with Fletcher Henderson's New York band and then, in Chicago, formed his own group, Louis Armstrong's Hot Five. He toured Europe and became better known to the public through appearances on radio and in films and (in later years) on TV. He was famous also for his "scat" form of singing. Some of his most famous songs included: "Stardust", "What a Wonderful World", "When The Saints Go Marching In", "Dream a Little Dream of Me", "Ain't Misbehavin'", "You Rascal You" and "Stompin' at the Savoy."



Louis Armstrong, jazz trumpeter and singer, in 1953.





Louis Armstrong in 1953
(Photographer: Herman Hiller, World-Telegram staff photographer.)





Louis Armstrong plays trumpet in 1966 while Joey Adams, president of the American Guild of Variety Artists Youth Fund, presents him with an award at Carnegie Hall
(Photo: New York World-Telegram and the Sun staff photographer: Fernandez, Orlando, photographer.)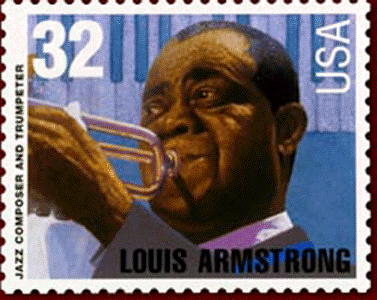 United States Postal Service commemorative stamp issued in New Orleans, Louisiana, USA, on September 1, 1995. New Orleans was Louis Armstrong's hometown.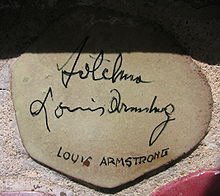 "Satchmo – Louis Armstrong" autograph on a wall in Alassio, Italy
(Photo: Jaquen.)





Author: David Paul Wagner
(David Paul Wagner on Google+)


Note: This picture gallery page includes drawings, paintings, photos and images of performances of Louis Armstrong.