Pictures of
Johann Strauss, the Younger
Austrian composer
(1825-99)


Share this page:

Known as the Waltz King, Strauss wrote over 150 Viennese waltzes, including An der schönen blauen Donau (The Blue Danube) and Geschichten aus dem Wienerwald (Tales from the Vienna Woods). Other Strauss music includes operettas, such as Die Fledermaus (The Bat) and Der Zigeunerbaron (The Gypsy Baron), as well as many polkas and marches.





Johann Strauss the Younger, 1888.

(Artist: August Eisenmenger.)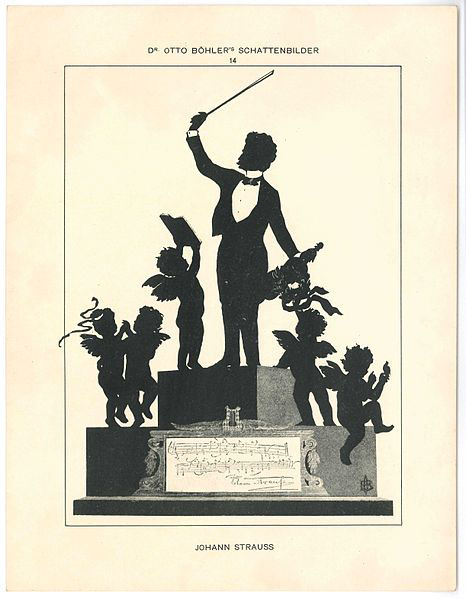 A silhouette of Johann Strauss II.

It was created by the artist Otto Böhler (1847-1913) and was published in Vienna in 1914 as part of the booklet, Dr. Otto Böhler's Schattenbilder (which translates as "Dr. Otto Böhler's Silhouettes").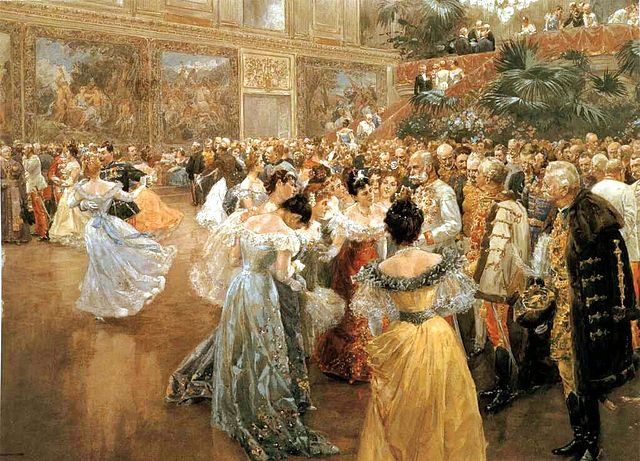 A glittering waltz in Vienna, Austria in late 1800s. Strauss waltzes were enormously popular at such events.

The title of this watercolor painting is Hofball in Wien (Court Ball in Vienna). It is also sometimes referred to as Vienna Waltz. It was painted in 1900 by Wilhelm Gause. It may be seen in the Historisches Museum der Stadt Wien (Historical Museum of the City of Vienna). Vienna, Austria.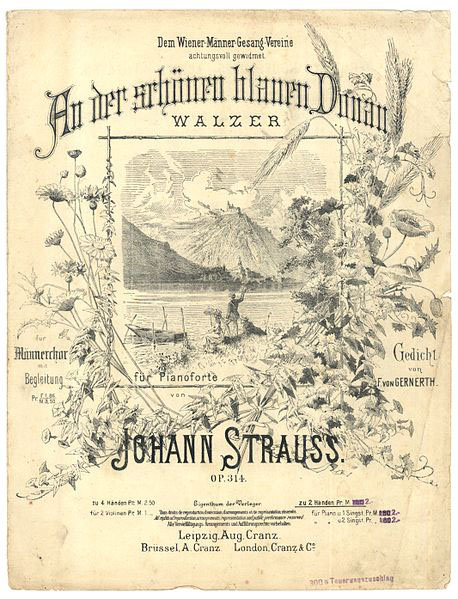 Johann Strauss (Sohn): Donauwalzer, Ausgabe mit dem Text Franz von Gernerth von August Cranz
[English: Johann Strauss II. The Blue Danube, ed. with the words of Franz von Gernerth by August Cranz].

Published in Leipzig around the year 1900. A copy of this score is held in the Walter Anton collection.








A production of Johann Strauss II's operetta, Die Fledermaus, in the Opera Theater of Pittsburgh, in 1989.





A poster for a French production of the operetta, Der Zigeunerbaron (English: The Gipsy Baron; French:La Tzigane), by
Johann Strauss II.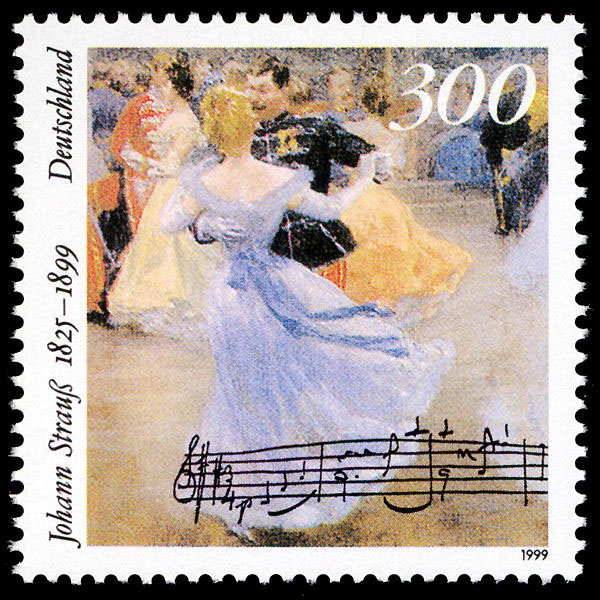 A Vienna waltz with a few bars of a waltz by Johann Strauss II, as depicted on a postage stamp issued by Germany in 1999.





Share this page:



Author: David Paul Wagner
(David Paul Wagner on Google+)


Note: This picture gallery page includes drawings, paintings, photos and images of Johann Strauss the Younger (often known as Johann Strauss II), his music, activities, friends and family, and the various places where the composer lived and wrote.