Pictures of
(Franz) Joseph Haydn
Austrian composer
(1732-1809)


Share this page:

Haydn wrote over 100 symphonies and many string quartets, sonatas and piano trios. He was responsible for great developments in the classical style and forms, and he is often referred to as the "Father of the Symphony". Other Haydn music includes masses, operas, and folk song arrangements.





Franz Joseph Haydn.
(Painting by the English portrait painter, Thomas Hardy, 1792. This painting is owned by the Royal College of Music, London.)





Haydn in 1794.
(Drawing by George Dance.)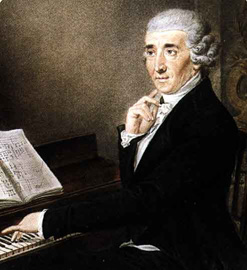 Haydn at the keyboard, 1795.








Joseph Haydn portrait, painted by Ludwig Guttenbrunn, ca. 1791-2. This portrait depicts Haydn as he appeared in around the year 1770.





Postage stamp issued by Hungary in 1959, commemorating the 150th anniversary of the death of Franz Joseph Haydn, the Austrian composer.





Share this page:



Author: David Paul Wagner
(David Paul Wagner on Google+)


Note: This picture gallery page includes drawings, paintings, photos and images of Franz Joseph Haydn, his music, activities, friends and family, and the various places where the composer lived and wrote.