Pictures of
Edvard Grieg
Norwegian composer
(1843-1907)



Share this page:

Grieg was a Norwegian composer and pianist. Grieg's most famous work, the Peer Gynt Suites, was written as incidental work for the Ibsen play, Peer Gynt. Other Grieg music includes: Wedding Day at Troldhaugen; Lyric Pieces; the Holberg Suite; and over 120 songs. Grieg's works are often influenced by the melodies of Norwegian folk music and the words of Norwegian poetry.





Portrait of Edvard Grieg.

Originally appearing on Grieg's carte de visite (business card) (c. 1888) along with his signature, the portrait was later published in The Leisure Hour (1889). An engraving of it was made by T. Johnson and published in The Century (1894).





Edvard Grieg
(portrait from an old postcard)





Portrait of Grieg (1891) painted by Eilif Petersen.





Grieg and wife Nina in 1899.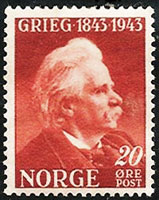 The birth centenary of the composer Edvard Grieg, as commemorated on this postage stamp issued by Norway in 1943.





Edvard Grieg with a score of his Concerto in A minor, as depicted on postage stamp issued by Norwary in 1983.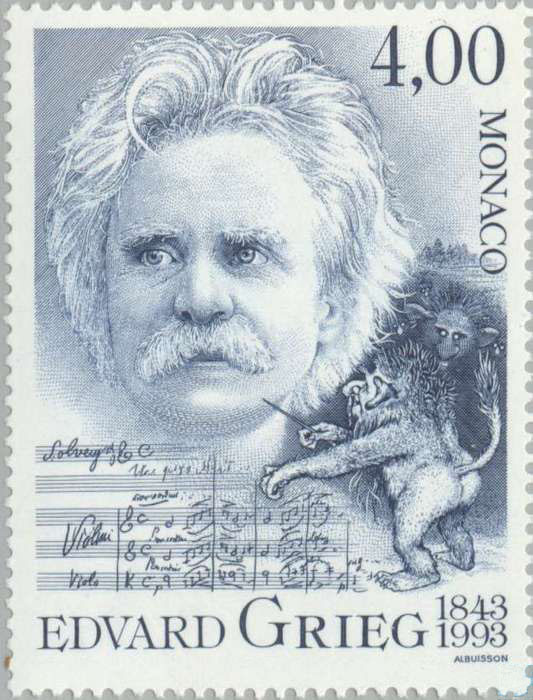 This postage stamp, issued by Monaco in 1993, depicts the Norwegian composer, Edvard Grieg, along with a score of "Solveig's Song" from Grieg's Peer Gynt, (suite No. 2, op.23, no.19) and trolls. Grieg's Peer Gynt was based on a play of the same name by the Norwegian dramatist, Henrik Ibsen.





"Spring" - 150th anniversary of Grieg's birth. Postage stamp issued by Norway in 1993.





Share this page:



Author: David Paul Wagner
(David Paul Wagner on Google+)


Note: This picture gallery page includes drawings, paintings, photos and images of Edvard Grieg, his music, activities, friends and family, and the various places where the composer lived and wrote.