Pictures of
Gabriel Fauré
French composer
(1845-1924)



Share this page:

Faure's music has a refined, intimate and gentle quality. His works include a wide variety of chamber music and piano music, including nocturnes, barcaroles and impromptus. More examples of Fauré music: the songs Après un rêve (After a Dream), Les Roses d'Ispahan (The Roses of Isfahan) and Clair de Lune (Moonlight); and the Messe de requiem (Requiem).





Gabriel Fauré
in later years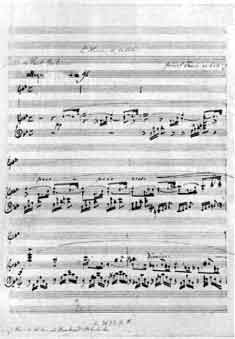 Page from the autograph manuscript of Fauré's song cycle, La Bonne Chanson (1894). This song cycle was based on the Paul Verlaine's collection of poems of the same name.





Share this page:



Author: David Paul Wagner
(David Paul Wagner on Google+)


Note: This picture gallery page includes drawings, paintings, photos and images of Gabriel Fauré, his music, activities, friends and family, and the various places where the composer lived and wrote.