Pictures of
Ella Fitzgerald

American jazz and song vocalist
(1917-96)



Ella Fitzgerald had a vocal range of three octaves and was famed for her of tone, diction, phrasing and intonation, and improvision. Her career lasted 59 years, during which she won of 13 Grammy Awards, the National Medal of Arts and the Presidential Medal of Freedom.

Here are ten of the most popular songs sung by Ella Fitzgerald:
"Do Nothin' Till You Hear from Me, from the Duke Ellington Songbook"
"Begin the Beguine, from the Cole Porter Songbook"
"Every Time We Say Goodbye, from the Cole Porter Songbook"
"Too Darn Hot, from the Cole Porter Songbook"
"Manhattan, from the Rodgers and HartSongbook"
"A-Tisket, A-Tasket, from Jukebox Ella" (and other records)
"Miss Otis Regrets, from the Cole Porter Songbook"
"Love for Sale, from the Cole Porter Songbook"
"A Fine Romance, from Ella and Louis Again"
"Mack the Knife, from the album of the same name"
(This list courtesy of Thomas Lane.)




Ella Fitzgerald, 19 January 1940.
Photo: Carl Van Vechten.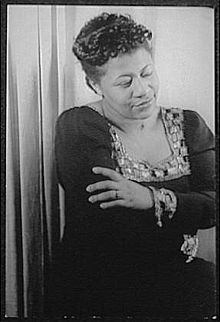 Ella Fitzgerald photographed by Carl Van Vechten in 1940.





Ella Fitzgerald in 1968.
Source: Courtesy the Fraser MacPherson estate c/o Guy MacPherson.








Ella Fitzgerald and Joe Pass in concert 1974.
Photo: Hans Bernhard.





President Ronald Reagan with Ella Fitzgerald after her performance for King Juan Carlos I of Spain in the White House East Room.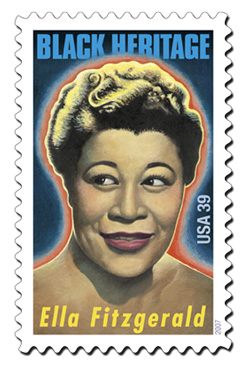 Ella Fitzgerald as she appeared on a 2007 United States commemorative postage stamp.





Author: David Paul Wagner
(David Paul Wagner on Google+)


Note: This picture gallery page includes drawings, paintings, photos and images of performances of aaaaaa.