Pictures of
Frédéric Chopin
Polish composer
(1810-49)


Share this page:

Chopin's music was mostly written for the piano. Chopin music includes piano sonatas, concertos, études (studies), nocturnes, preludes, scherzos, ballades, waltzes (such as the Minute Waltz), and mazurkas. Other well known Chopin works for the piano include the Barcarolle, Opus 60, the Fantasia, Opus 49, and the Berceuse, Opus 57.





Frédéric Chopin in a seemingly pensive yet watchful mood.
(This painting is part of a joint portrait done in 1838 by the French romantic artist, Eugène Delacroix, of Chopin with his lover, George Sand.)





Chopin
(Drawing by Lehmann, 1847.)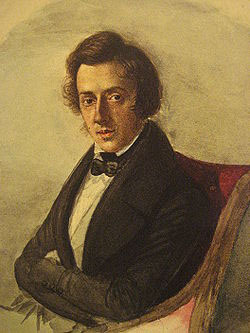 Chopin at the age of 25.
(Painting by Maria Wodzinska, 1835.)









The writer, George Sand (1804-76), Chopin's lover during the 1840s





"Chopin Playing the Piano in Prince Radziwill's Salon" (painted by Henryk Siemiradzki in 1887).

This salon was located in the Palais Radziwill, Berlin. In 1829 Chopin had been the guest of Prince Radziwill, governor of the Grand Duchy of Posen. The Prince was himself a talented composer and cellist.






Share this page:


Author: David Paul Wagner
(David Paul Wagner on Google+)


Note: This picture gallery page includes drawings, paintings, photos and images of Frédéric Chopin, his music, activities, friends and family, and the various places where the composer lived and wrote.