Pictures of
Buddy Bolden
(full name: Charles "Buddy" Bolden)
African American cornetist and key figure in New Orleans rag-time music
(1877-1931)



The legendary Buddy Bolden is often credited with inventing "jass" (later renamed "jazz"). He was a masterful cornetist who played in an improvisational style and who set up his own band in New Orleans in the last years of the 19th century.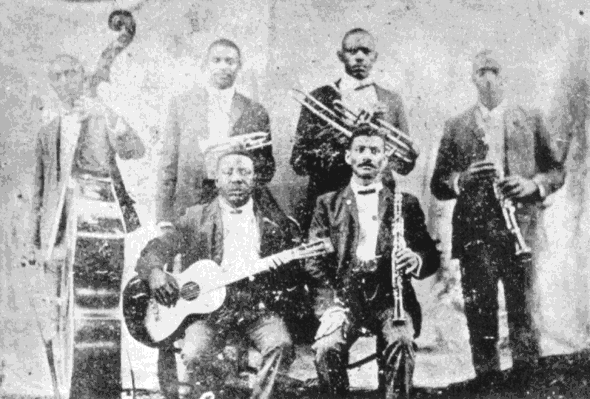 Buddy Bolden's band, around 1900-1906.

Standing, left to right: Jimmy Johnson, Buddy Bolden, Willie Cornish, William Warner. Sitting, left to right: Jefferson Mumford and Frank Lewis.

Photographer: unknown. Source: the personal collection of trombonist Willie Cornish, who loaned this photograph for reproduction in the book Jazzmen in 1938.





Writer Donald Marquis at the memorial tombstone for jazz pioneer Buddy Bolden in the Holt Cemetery, New Orleans, Louisiana. (Marquis wrote the standard biography of Bolden.)





Author: David Paul Wagner
(David Paul Wagner on Google+)


Note: This picture gallery page includes drawings, paintings, photos and images of performances of Charles "Buddy" Bolden.