Violin Pictures



Share this page:




A man standing with a violin, a woman seated at a piano and another woman standing and holding sheet music. The Law Concert Company, 1895. Photo: Brigden and Geisler, The Arcade, Cleveland..






Bearded elderly violinist with children turning the pages of the music score for him. (Date: c. 1900-1910.)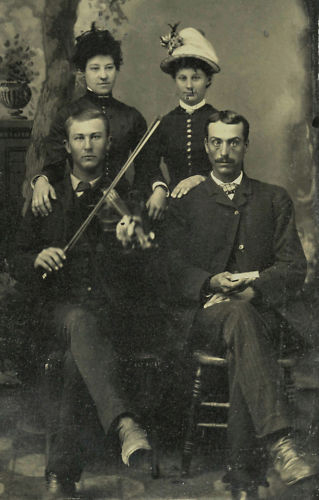 Two couples at Binghampton, New York. One of the men is playing a violin.





Ole Bornemann Bull, Norwegian violinist and composer, with violin tucked under his chin.

Date: ca. 1860-80.








Lady with a violin, a painting by E. Schneider.

Source: Old postcard.





Christmas card (c. 1907) showing boy playing a violin and a girl singing in front of a Christmas tree.





The Musician (Italian: Il Musicista; French: Le Musicien), a delightful drawing of an 18th century child playing a violin and straining to follow the music score on the stand in front of him.

It was drawn by Aurelio Bertiglia (1891-1973), the Italian postcard artist.


Related Pages
Violin Pictures (1)
Violin Pictures (3)


Share this page:


Author: David Paul Wagner
(David Paul Wagner on Google+)


Note: This picture gallery page features photos (photographs) of violins, plus drawings, paintings, diagrams, images and illustrations of them.