Pictures of
Hector Berlioz
French composer
(1803-69)



Share this page:

Berlioz was a French Romantic composer. Notable works of Berlioz music: the Symphonie fantastique; the symphonies Harold en Italie (Harold in Italy) and Roméo et Juliette; the concert opera, La Damnation de Faust (The Damnation of Faust); the opera, Les Troyens (The Trojans); and the oratorio, L'Enfance de Christ (The Childhood of Christ).





Hector Berlioz in Rome, 1832. Berlioz was the father of French Romanticism in music. He composed original work on a grand scale, and was seen as crazy by many. His wild hairstyle reflected his wild ways.

This painting was done by Émile Signol, a French painter who had been awarded the Prix de Rome (literally, Prize of Rome) scholarshop at the same time as Berlioz (1831-32). One of the conditions for being given a Prix de Rome was that the artist or musician had to reside in Rome for a period and so the two would have met while they were both in Rome. This painting is currently located in the the Villa Medici, Rome.





"Un concert à mitraille et Berlioz" [A concert of cannons and Berlioz], drawn by French caricaturist Jean Ignace Isidore Gérard (1803-47). In this cartoon the young composer is flamboyantly conducting a concert -- probably Berlioz's Symphonie fantastique -- with a vast orchestra containing instruments such cannons and huge hammers hitting drums. The audience is deafened: several listeners have their hands over their ears. Wild music indeed!

This cartoon was originally published in the French magazine, L'Illustration, on 15 November 1845.

In 1846 it was republished in Louis Reybaud's novel Jérome Paturot à la recherche d'une position sociale [Jérome Paturot looking for a position in society]. The accompanying caption reads (in French): "Heureusement la salle est solide... elle résiste!" (Fortunately the hall is solid... it can stand the strain!).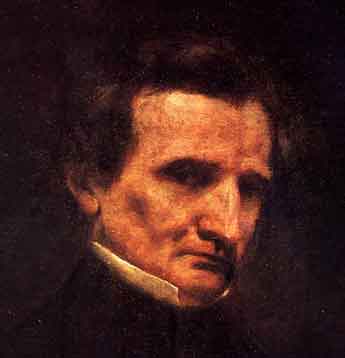 Hector Berlioz, 1850. This portrait was painted by Gustave Courbet.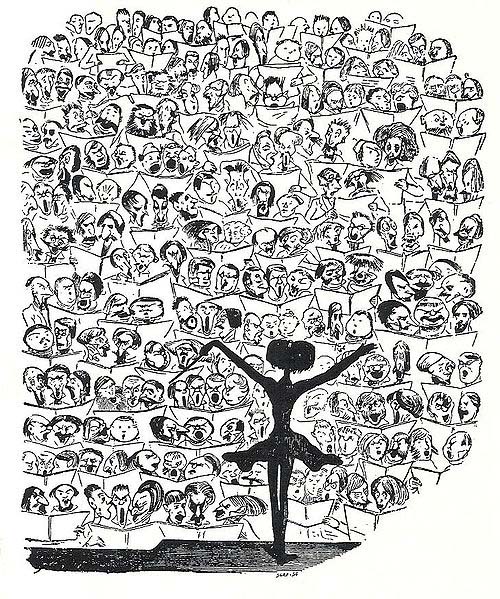 Berlioz conducting a huge choir (suggesting the choir for 10,000 voices that sang Berlioz's La Messe des Morts (Mass for the Dead).

This cartoon was drawn by the great French artist, Gustave Doré, and was published in Journal pour rire (literally, Newspaper for Laughs), in Paris, on 27 June 1850.





A caricature of Berlioz drawn by Étienne Carjat. On the wall in the background are written the names of a number of Berlioz's symphonies, operas and oratios. Berlioz is carrying the score of his opera Les Troyens (The Trojans) in his hand.

This cartoon was published in the French magazine, Le Boulevard, in 1863.





Harriet Smithson playing the role of Ophelia in William Shakespeare's tragic drama, Hamlet. This picture was drawn around 1830 when Berlioz first met and fell in love with Smithson.








First page of original Symphonie fantastique (1830) manuscript in the handwriting of the composer, Hector Berlioz (1803-69).





Theme from Berlioz's symphony, Harold en Italie (Harold in Italy) (1830) with the composer's signature at the bottom





Berlioz is shown on this postage stamp issued by Monaco in 2003.


More Hector Berlioz pictures and information:
http://www.hberlioz.com
Run by two British academics as a labor of love, this large website will get you enthralled with the life, personality and works of this great composer.


Share this page:



Author: David Paul Wagner
(David Paul Wagner on Google+)


Note: This picture gallery page includes drawings, paintings, photos and images of Hector Berlioz, his music, activities, friends and family, and the various places where the composer lived and wrote.